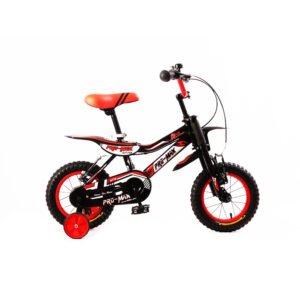 Bronco Promax 12 Inch

Rated 5.00 out of 5
Sale!
Bronco Promax 12 Inch
209.00 AED – 219.00 AED
-36%
Free U.A.E shipping on all orders over 150 AED

Description
Description
Gift this bicycle to your little ones and delight them with our classy choice. This bicycle has a sturdy frame that adds to its longevity and durability. This bike is ideal to get into the habit of riding, encouraging your child to keep active, and develop their coordination and balance. It is also a great way to keep them healthy. 
Product Features:
Heavy-duty welded steel frame.

Front and rear mudguards help from mud and dust.

Rubber handgrips for better handling and comfortable steering.

Chainguard prevents clothes from getting caught while riding.

Padded seat for a comfortable ride.
Product Specification:
Frame: Steel
Fork: Steel (Suspension Imitation)
Handlebar: BMX Handlebar
Tires: 12 x 2.4″ Tires
Rims: Steel
CWC: Steel
Pedals: Plastic
F/Brakes: 'V' Brakes
R/Brakes: 'V' Brakes
Brake Levers: Plastic
Mudguards: Plastic